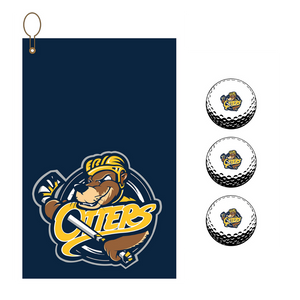 Includes a 16"x25" navy Erie Otters golf towel and three golf balls branded with the Erie Otters logo.
No Mulligan's Needed!
What a terrific gift set for the golfer in your life. Great work by Darcie and the Otters team as always.
A Hole-in-One
Beautiful plush logo golf towel with wonderful Erie Otters printed golf balls. The Par-fect gift!
Otters' Golf Set
My husband truly loved his golf set. Thank you so much!
Otters Golf Set
I purchased the Otters Golf Set as a present for my Uncle who is a Golf Pro at his local Golf Club. He loved it and looks forward to using the golf towel in particular when giving lessons to new and experienced golfers, while of course telling them the reason behind why he has an Erie Otters Golf Towel. I'm sure the team now has a new fan as well! Go Otters!